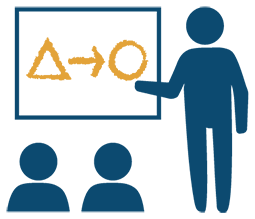 Training & Coaching
Efficient, clear and clean setup processes are important. But realizing a change is only possible in collaboration with the people.
Professionally trained coaches complete our profile: We will support when there emerges trouble among your teams or executives or when newly formed teams need assistance to implement new processes smoothly.
This is, of course, helpful in every-day-situations, too: Whenever there are waverers to be convinced, enthused or taken on board, we will unpack the magic coaching-wand…
Our range of services in Training & Coaching include:
Conception and carrying out of methods training on process management
"BPM you can touch"-workshops to inspire the management level of process management
Conception and holding of Kick-Off events regarding transformation projects
Team- and individual coaching in times of change
Team- and individual coaching in conflict situations
Our coaches hold comprehensive experience in management and process management as well as relevant certification for solution-orientated, systematic coaching.
Individual and for your needs tailored solutions for you to reach your goals with structure, expertise and heart! True to our motto "no standard solutions".